Top des ventes de jeux : Errata
Bonjour,
Alors que je compile les données de juin, je m'aperçois que les classements des 3 derniers mois ont été faussés avec quelques jeux qui n'apparaissaient pas par faute d'un filtre mal positionné.
L'ordre des jeux n'est pas impacté mais certains viennent s'insérer dans les classements (poussant les derniers hors de la liste). Voici les corrections rapides avant mon départ en vacances :
En Mars :
The Mind entre en 14é position
Welcome To … entre en 17é position
En Avril :
Hero Realms entre en 5é position
Exploding Kittens est en 11é position
Huns entre en 16é position
Leviathan, extension pour Abyss entre en 18é position
En Mai :
Exploding Kittens est 7é
Santorini entre en 8é position
Hero Realms est 17é
Ce qui donne le récapitulatif glissant suivant :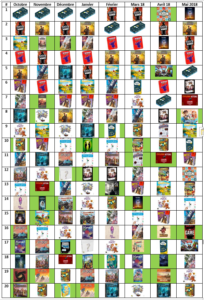 Je prie les lecteurs, les boutiques, les auteurs et les éditeurs de m'excuser pour ces erreurs que je vais m'attacher à ne pas reproduire.
Bon été
Olivier Reix